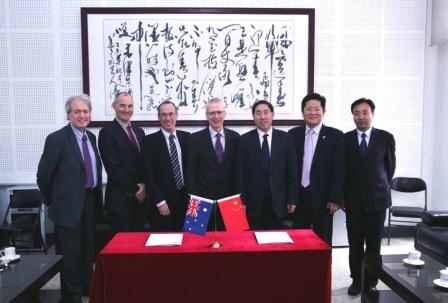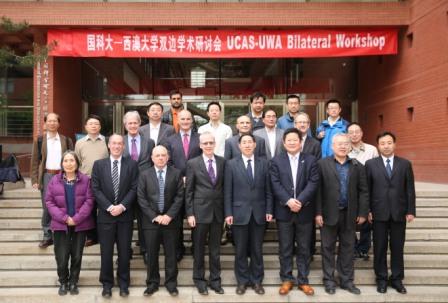 The UCAS-UWA Bilateral Workshop on the theme of physics and astronomy was held at Zhongguancun campus of UCAS on 19th April.
UCAS Vice President WU Yueliang addressed the meeting, introducing the history of scientific cooperation between UCAS and the University of Western Australia (UWA) and hoped that this workshop can deepen mutual understanding and promote the personnel training and scientific development for both universities. UWA President Paul Johnson briefed on research progress of UWA and stressed scientific communication and exchange between Chinese universities and foreign universities. He hoped that long-term cooperation will be established among UWA, CAS and UCAS in the field of physics, astronomy, and other disciplines.
Professor Cai Ronggen from Institute of Theoretical Physics of CAS, Professor Liu Wuming from Institute of Physics of CAS, Professor Li Di from National Astronomical Observatories of CAS, Professor Qiao Congfeng from UCAS were invited to make academic speeches.
A joint Ph.D. Degree Program agreement between UCAS and UWA was signed by Wu Yueliang and Paul Johnson before the meeting. Under the collaborative arrangement, students will undertake a four-year program, with two years spent at both UWA and UCAS. Students can receive dual PhD degrees if they meet the completion requirements of each institution.
UWA was founded in 1911. It is located in the capital of Western Australia in Perth. It is one of the eight universities in Australia. In January 2015, UCAS and UWA signed a memorandum of understanding. In January 2016, the undergraduate exchange program agreement was signed between the two universities.
By Wu Xuan