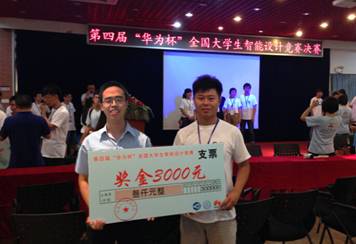 Graduate students from the School of Computer and Control Engineering, UCAS, won the first prize at the "Huawei Cup" Intelligent Design Competition for College Students in July, with their APP titled "Kit for Traveling All over the World" used in mobile phones. Their APP facilitates shopping, hotel reservations, finding restaurants and arranging transportation.
Hosted by the Chinese Association for Artificial Intelligence and Xiamen University and sponsored by Huawei, the competition consisted of preliminary, intermediary and final rounds, attended by more than 150 teams from 40 Chinese universities, including UCAS, the University of Science and Technology of China, Wuhan University, and Nankai University.
The "DREAM UCAS" team, with Professor Luo Tiejian as the instructor and Wang Zhongjie as the captain, was one of the three graduate student team winners, with the other 12 winning teams being undergraduates. The other UCAS team members were Hao Shuo, Chen Tenglong and Xie Xue.

Competitors chose from a variety of themes concerning cutting edge fields in artificial intelligence and computing technology. They focused on the types of practical technology developed by Huawei.