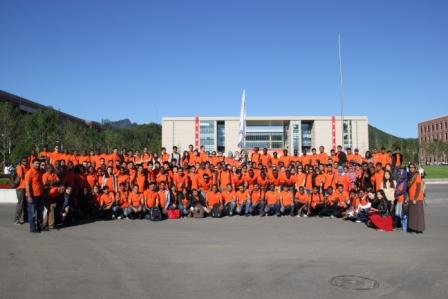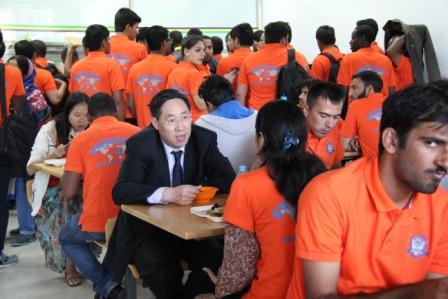 On September 12, 244 new international students from 50 countries along with 4,279 Chinese graduate students and 334 Chinese undergraduates, attended the 2015 UCAS Opening Ceremony at the Yanqihu campus.

Christina Mark from Denmark made a speech representing international students. She shared her experience of studying in China, her feelings about the first two weeks of study at UCAS and her determination to promote cooperation between China and Denmark.

After the opening ceremony, international students attended a welcome meeting chaired by Prof. Hu Zhengyi, Executive Dean of the Sino-Danish College, UCAS.

Prof. Wu Yueliang, academician of CAS and Vice-President of UCAS, delivered a welcoming speech and introduced the achievements and research resources of UCAS. He also offered suggestions to new students, asking them to be responsible for themselves, for their home nation and for the entire human race.

Prof. Gao Fu, academician of CAS and Vice Director of the Chinese Center for Disease Control and Prevention, shared his past experiences as an international student. He said that the first step for overseas study is to know more about the country, to learn the language and to understand the culture.

Prof. Morten Laugesen, Vice-Director of SDC, Prof. He Jun from the National Center for Nanoscience and Technology also delivered speeches at the meeting.

After the meeting, Prof. Wu had lunch with the international students.

UCAS has the largest number of graduate students among China's universities, with 44,500 Chinese graduate students and 1015 international graduate students from 99 countries in CAS institutes as well as UCAS schools and colleges.

The 12 UCAS basic colleges have been reorganized by 52 CAS institutes and 102 teaching and research sections have been established as of July 2015 in order to integrate scientific research and education, which enable a large number of outstanding researchers to teach at UCAS. The eastern and western sections of the UCAS Yanqihu campus, which accommodate more than 7000 graduate students are now fully operational. "Now UCAS has ushered in a new era", said Prof. Ding Zhongli, President of UCAS and Vice-President of CAS.
written by Hu Menglin & Xia Yu