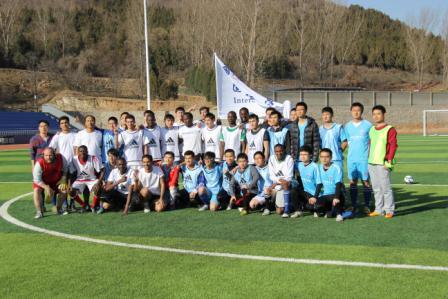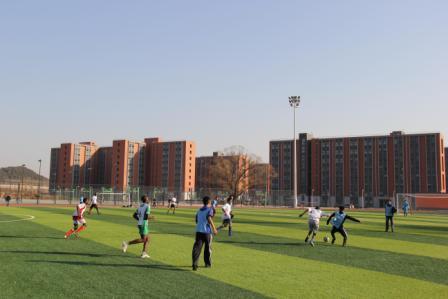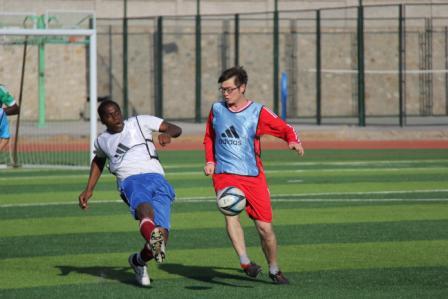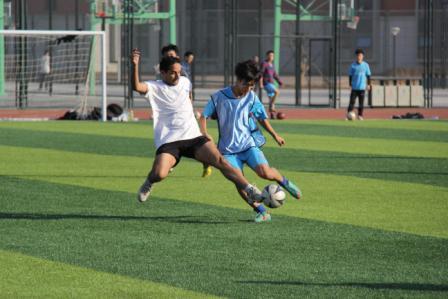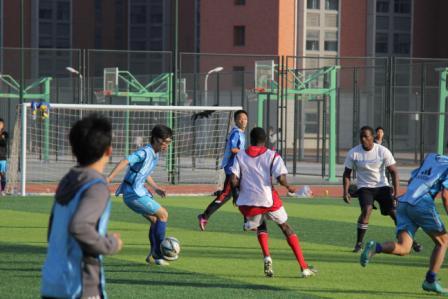 22 November, 2013 was a bright afternoon when the International College (ICUCAS) soccer team traveled to the Yanqihu campus to play a friendly match with the the soccer team from the College of Material Science and Opto-Electronic Technology (CMSOET). The trip was wonderful with beautiful scenery along the highway from Beijing to Huairou often punctuated with beautiful tall buildings. After arrival, the team was pleased to see the well constructed campus. The soccer team was waiting with bright smiles which exceeded all expectations. It promised to be a great afternoon.
The international students soccer team assembled with their Chinese counterparts to exchange warm handshakes and take photos before the match kicked off at 2:00 pm.
The CMSOET team won 2-1 and was warmly applauded. The game was full of exciting moments which couldn't all be captured by a camera lens. The match was an example of the positive relationship between the Chinese and international students and was an excellent opportunity to make friendships far away from home. The international students appreciated the university's thoughtfulness in organizing such an enjoyable outing and soccer match.
Written By George Makalliwa
Photos by Andrew Apudo and Rebecca Njeri Damaris