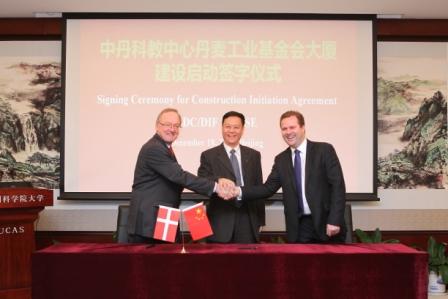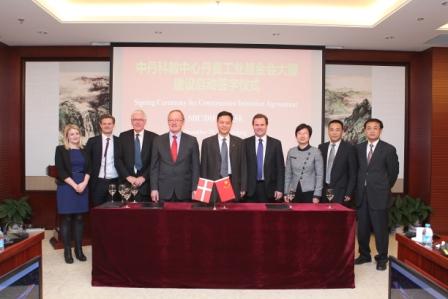 A signing ceremony for the Construction Initiation Agreement of the SDC/DIF House was held at the Yanqihu Campus, UCAS on December 18, 2013. Prof. Deng Yong, Executive Vice-President of UCAS met with the Danish delegation led by Mr. Uffe Toudal Pedersen, Permanent Secretary of the Danish Ministry of Science, Innovation and Higher Education (DMSIHE), and Mr. Mads Lebech, Executive President of the Danish Industry Foundation (DIF), all of whom signed the agreement. UCAS Vice-President Wang Yanfen and Assistant President Zhu Xiangbin also attended the ceremony.

Prof. Deng remarked that UCAS regards SDC as one of its most important cooperative projects, noting that despite the hindrance of different cultures, systems and ways of thinking, the two sides have consolidated friendship and trust through continuing close dialogue. The construction initiation of the SDC Building is the fruit of concerted efforts and is highly significant.

Mr. Uffe Toudal Pedersen referred to the signing ceremony as a milestone in Sino-Danish cooperation. He compared the SDC Building to "an oak from Denmark" which will thrive in Chinese soil. Mr. Mads Lebech attributed the construction initiation to the hard work and perseverance of UCAS and DMSIHE, to which he offered his gratitude and respect.

The signing ceremony was witnessed by SDC faculty and graduate students.

In accordance with the Cooperation Memorandum of Understanding between UCAS and DMSIHE and the Danish universities dated October 23, 2008, an SDC building will be constructed as a center for scientific research and education on the UCAS Yanqihu Campus. DIF will donate 109.6 million RMB for construction of the SDC building, which will therefore be named the SDC/DIF House.