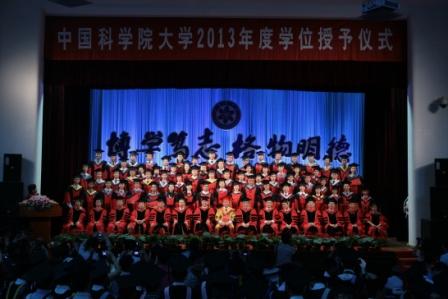 The University of Chinese Academy of Sciences (UCAS) held its 2013 degree conferring ceremony at Yuquanlu campus on July 15, the first of its kind since the university got the new name in July 2012.
This year, 5,188 Ph.D students and 4,966 MA students from over 100 institutes of the Chinese Academy of Sciences (CAS) were awarded degrees, marking the first time that the annual number of students getting degrees from the university exceeds 10,000. So far, a total of 109,882 students have been awarded degrees by the UCAS.
Prof. Deng Yong, Vice Secretary-General of the CAS as well as Chairman of University Council of the UCAS, announced the decision to confer degrees for 2013. The ceremony was attended by Prof. Bai Chunli, President of both CAS and UCAS and hosted by Prof. Wang Ying, Vice-President of the UCAS.
Over 650 student representatives were granted degrees at the ceremony.
After offering his congratulations, Bai said in his speech that the most important things students learn at the UCAS are innovative thinking and scientific methodology, as well as the sense of responsibility and honor in serving the country and the people.
Bai said he hoped the students can link their individual aspirations to the fate of the country and work hard for the realization of the "Chinese dream". He also urged the students to put what they have learned into practice, carry out innovation and bravely take on challenges.
Echoing Bai's remarks, tutor representative Zhu Jianqiang encouraged the students to set lofty goals and devote themselves to the dreams of their own and of the whole Chinese nation.
Huang Yafang, a doctoral student of the National Astronomical Observatories spoke on behalf of the graduates and expressed their determination to succeed in the future.
The university used to be known as Graduate University of Chinese Academy of Sciences (GUCAS), which was founded in 1978 as the first graduate school in China with the ratification of the State Council. The UCAS graduated China's first doctoral student in science, first doctoral student in engineering, first female doctoral student es in China. At present, 39,600 graduate students are studying at the university, of which 49% are Ph.D candidates.