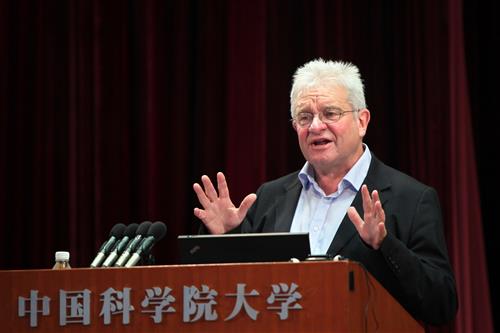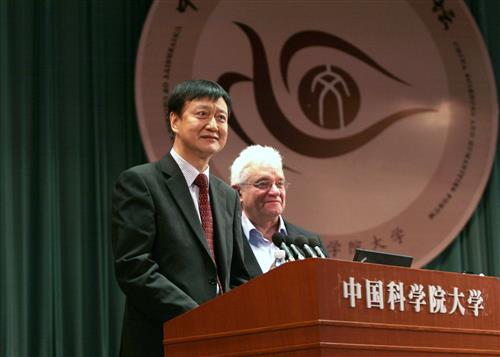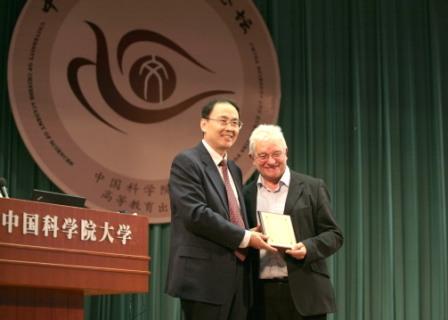 President of the British Royal Society and Nobel laureate Paul Nurse gave a lecture under the title of "Making science work" at China Sciences and Humanities Forum on the UCAS Yuquanlu campus on Sept. 12.
Hosted by CAS Vice President Li Jinghai, it was the 142nd lecture of the forum, which was founded in April 2003 and is jointly held by the UCAS and the Higher Education Press.
Nurse, who was awarded the 2001 Nobel Prize in Physiology or Medicine, first introduced the scientific exchanges between Britain and China, especially the cooperation between the British Royal Society and the CAS. He came here to celebrate those links and collaborations, which are still increasing, he said, adding that he was highly confident that scientists from Britain and China can work together to fulfill difficult tasks in scientific research.
In the lecture, Nurse shared with the audience his ideas on how to conduct high-quality scientific research and the challenges facing the mankind. He believed the aim of science is to make us better understand nature and the human beings. Curiosity and passion are extremely important for scientific research, while free thinking, an open academic atmosphere, rational and objective judgment, and a certain degree of critical spirit are also indispensible, Nurse said.
The Nobel prize winner pointed out that the two major challenges we are faced with today are climate change and food security. To tackle the former, scientific research, technological innovation, and exchanges between scientists on the one side and the public and politicians on the other side are needed; for the latter, both Britain and China should work to promote their agricultural production by increasing productivity, better controlling diseases and pest insects and using agricultural land more efficiently, he said.
As the British Royal Society celebrated the 50th anniversary of its cooperation with China, Nurse said he hoped more new ways can be found to support closer links between scientists of the two countries. Mutual respect and trust are needed if more achievements are to be attained, he said.
In the Q&A session after his lecture, Nurse had a heated discussion with students on how to overcome difficulties in scientific research, the development and role of future sciences and China's higher education.
After the lecture, Nurse was conferred an honorary professor certificate by Vice President Su Gang on behalf of UCAS.