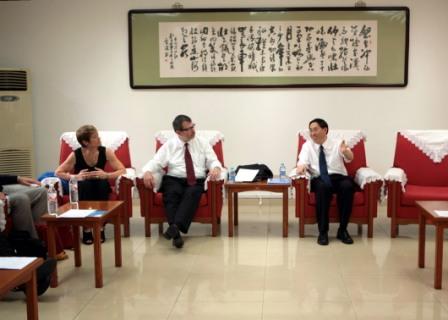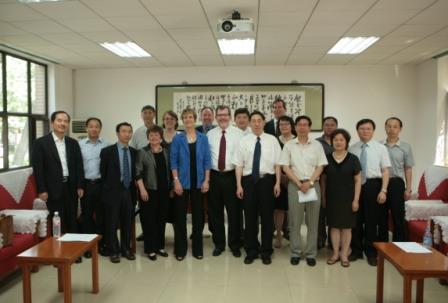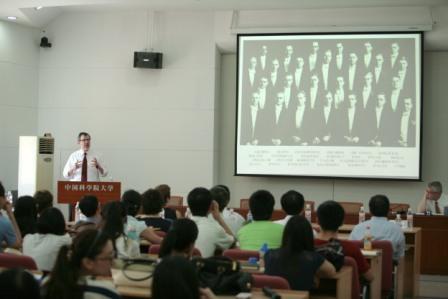 A University of Minnesota delegation (UM) led by President Eric Kaler visited the UCAS Yuquanlu campus in the afternoon of July 3. Prof. Wu Yueliang, UCAS Executive President, received the guests. The meeting was attended by the following UCAS faculty members: Prof. Gao Suixiang, Assistant President, Prof. Hu Zhongbo, Executive Dean of the College of Materials Sciences and Opto-Electronic Technology, Prof. Peng Gong, Dean of the English Department, Prof. Li Zengxi, Executive Dean of the School of Chemistry and Chemical Engineering and Prof. Zhang Yuanxun, Executive Dean of the College of Resources and Environment.

Prof. Wu delivered a welcome speech saying that the cooperation between UCAS and UM has a 10-year history. From the first visit to UM by former CAS President Lu Yongxiang in 2004 and the first visit to UCAS by Robert J. Jones, Vice President of UM in 2005, to CAS President Bai Chunli being awarded an Honorary Doctorate by UM in 2011 and Dr. David Y.H. Pui, Distinguished McKnight Professor of UM, being awarded the CAS Einstein Professorship Certificate in 2013, UCAS and UM have laid a relatively solid foundation for their cooperation in research and education. President Kaler noted that this year is the centennial of the bridge built between China and UM. UM will continue to increase its communication with China and deepen the exchanges and cooperation with UCAS.

President Kaler made a keynote speech titled "Global, Innovative, and Open For Business: The American Research University in the 21st Century" after the meeting.

The University of Minnesota is one of the most comprehensive public universities in the United States and ranks among the most prestigious. It is both the state land-grant university, with a strong tradition of education and public service, and the state's primary research university, with faculty of national and international reputation.

The members of UM delegation include Dr. Meredith McQuaid, Associate Vice President and Dean for International Programs and Dr. Joan Brzezinski, Executive Director of the China Center and the Confucius Institute.
(Written by Xia Yu)