Prof.Alan S. Paau from Center for Technology Enterprise and Commercialization of Cornell University, the Chair of China Social Innovation Foundation (CSIF), Dr. Xiaojian YOU, the Vice President of CSIF, Dr. Zhihang CHEN, came to visit School of Management on June 20th. The Executive Dean, Prof. Shouyang WANG, Associate Dean, Prof. Hong ZHAO and Prof. Yong SHI, Assistant Dean, Associate Professor Lv Ping, and the International Cooperation Office received the visit.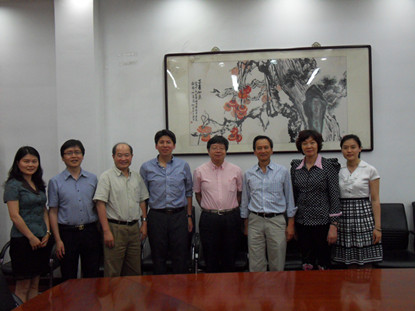 Professor Wang Shouyang, on behalf of School of Management, welcomes the delegation. Subsequently, the two sides briefly introduced the teaching and research advantages of each side. Professor Wang Shouyang pointed that, UCAS has an excellent research team, a solid research base, and a number of scientific and technological transferring achievements; Prof.Alan S. Paau mentioned that Cornell University had promoted the development in technology transferring field, and had put the social impact of the research into the teaching evaluation system of Cornell. Therefore, the scientific research personnels in Cornell highly values the effectiveness of the research for better serving the society.
The two sides had a deep discussion on the prospects for cooperation in the future. They both agreed that they had to make full use of their respective advantages in the cooperation.