The Associate Dean of Politecnico Di Milano (MIP), Professor Andrea Sianesi, and the Head of International Relations of MIP, Dr. Ilaria Fava came to visit School of Management on June 24th. The Executive Dean, Professor Wang Shouyang, Associate Dean, Professor Zhao Hong, Assistant Dean, Associate Professor Lu Ping, and the International Cooperation Office received the visit.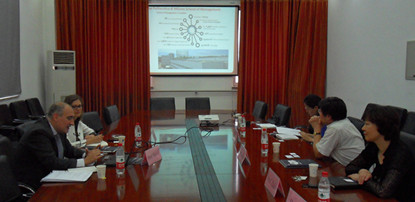 After signing the Memorandum of Understanding last year in November, this is the first time that MIP side comes to visit School of Management. The two sides discussed the cooperation in Executive Development Training programs as well as the faculty and student exchange programs. Through the comparison of the Education advantages between two sides, they also decided to design the specific projects together.
The meeting lasted for one hour, and all the cooperative programs between two sides will be launched soon.