Dr. Su Bin, from the Energy Studies Institute (ESI) National University of Singapore, came to visit School of Management on June 26th. The Associate Dean, Professor Dong Jichang, Assistant Dean, Associate Professor Lu Ping and Xujian, and the International Cooperation Office received the visit.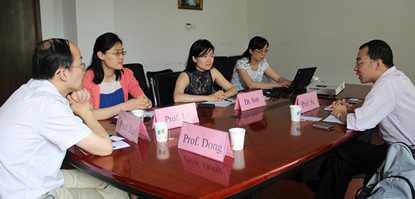 Dr. Su's visit this time is mainly for the cooperation in Executive training programs. He introduced the general background of ESI, and pointed that as the only domestic institute for the research on Energy Policy in Singapore, ESI is very willing to develop the relations with Chinese Academy of Sciences.
Considering the bilateral investment boom in both Singapore and mainland China, and the similarities of these two countries in culture, language, and other aspects, the two sides proposed to establish a joint training platform for companies in Singapore and mainland China. They decided to bring together the training resources in both CAS and ESI to carry out training programs.
The two sides had a deep discussion on curriculum design, implementation process and other details of the further projects.