480&&270&&0&&f5631dac-8f8e-4f19-8448-cef9775f11dc480&&270&&0&&f5631dac-8f8e-4f19-8448-cef9775f11dc
In the afternoon of July 5, SDC Graduation Ceremony and Degree Awarding Ceremony 2021 was held in the Sino-Danish Centre for Education and Research Building. In total, about 352 graduates graduated this year, which include the cohort 2017 and cohort 2018.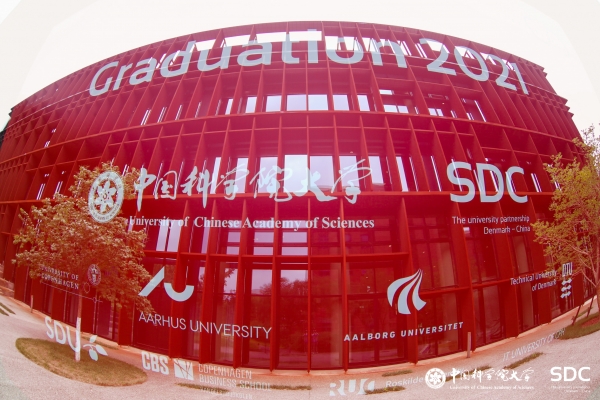 Philip John Binning, chairman of Danish Committee of SDC, senior vice president of Danish University of Science and Technology, director of Department of graduate education and international affairs, and Morten Laugesen, Danish director of Sino-Danish Centre for Education and Research, delivered speeches at the graduation ceremony. Wang Yanfen, executive vice president of University of Chinese Academy of Sciences, announced the awarding decision. Hu Zhengyi, Chinese director of Sino-Danish Centre for Education and Research, and Zhao Hong, Dean of Sino-Danish College, presided over the graduation ceremony.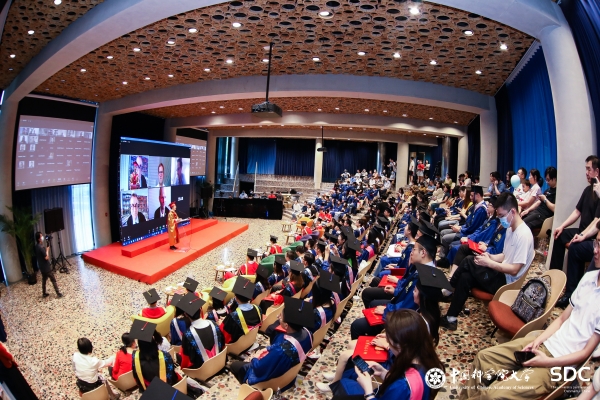 The graduation and awarding ceremony started with Dean Zhao Hong's opening speech. She warmly congratulated students on their successful graduation and all SDC faculty made great achievements in teaching and educating.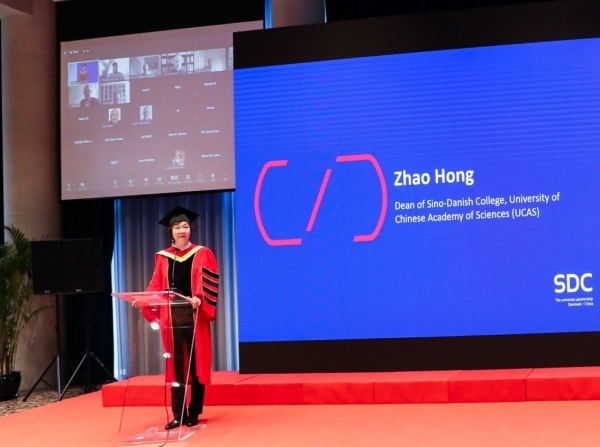 Opening speech by Zhao Hong , Dean of SDC
President Wang Yanfen made her speech: "SDC is a cross-cultural science and education platform signed and approved by UCAS and the Danish Ministry of science, innovation and education. It is also a milestone in the continuous development of science and education relations between China and Denmark." When she talked about the achievements of SDC in the past ten years, she said that a large number of international talents have gone from here to the world. She sincerely wished that "I hope every outstanding graduate will always carry the spiritual character given to you by SDC in the journey of pursuing dreams and moving towards the future."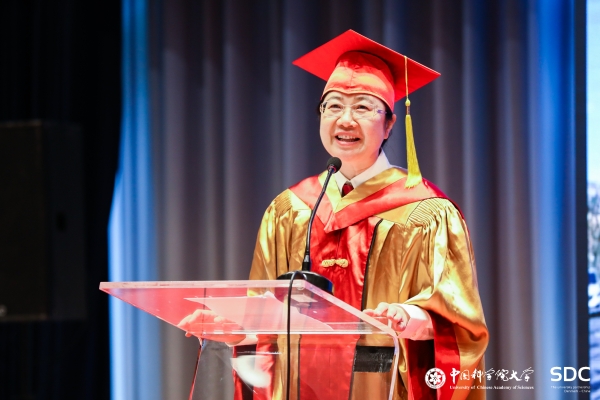 Speech by Wang Yanfen, Executive Vice President of UCAS
President Philip John Binning expressed the pity for not being at the ceremony in person due to the epidemic this year. He emphasized close cooperation between China and Denmark and the profound friendship among teachers and students cannot be separated. He wished, in the next decade, more students would realize their dreams of scientific research.
Speech by Philip John Binning, Chairman of SDC Danish Committee
Professor Yan Chaogan, from Institute of Psychology, CAS, delivered his speech on behalf of SDC Chinese supervisors. He gave two sentences to graduates for their following path. "The only failure in life is not to try again. The efforts will not be in vain." He shared his true feelings with students "Rain or shine I'm on the road, heading towards a destination already chosen."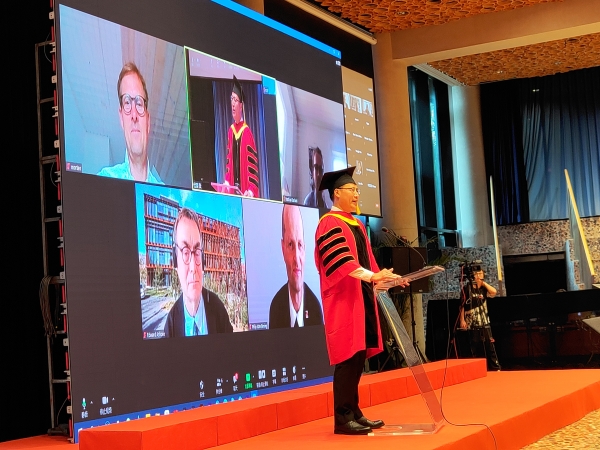 Speech by Yan Chao Gan, PhD supervisor,
Institute of Psychology of the Chinese Academy of Sciences
Professor Edward Ashbee from Copenhagen Business School said that SDC has always attached great importance to education. Its rich systematic curriculum aims to cultivate innovative and interdisciplinary talents. The essence of academic achievement lies in the application of learning. From classroom to practice, from scientific research theory to the world, this is the only way for every SDC students to contribute to the society.
Edward Ashbee, Professor at Copenhagen Business School, spoke on line
Two outstanding graduates delivered speeches respectively. Cai Xinlu, a 2021 PhD graduate, said that "the unique feature of the education in SDC is the international and diversified vision, open and critical thinking". In retrospect of SDC study, she wished all graduates a bright future. Mathias Klarlund, a 2021 master graduate, recalled his study time in China. "Only by giving laughter to the world can we gain more happiness." He said, the story happened in China is a rare wealth in his life.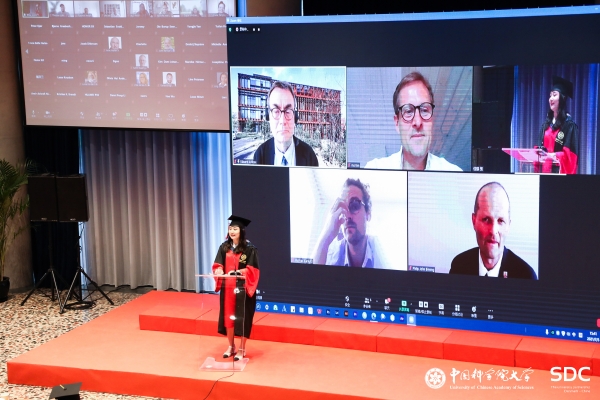 Graduation speech by the representatives of Chinese and Danish students
President Wang Yanfen announced the decisions of awarded degrees. Wang Yanfen, Hu Zhengyi, Zhao Hong, Li Zengxi, Yang Yungui, Li Shenggong, Yan chaogan, Liu fan, Ci Weimin, Gao Yuan set the tassels straight for the graduates.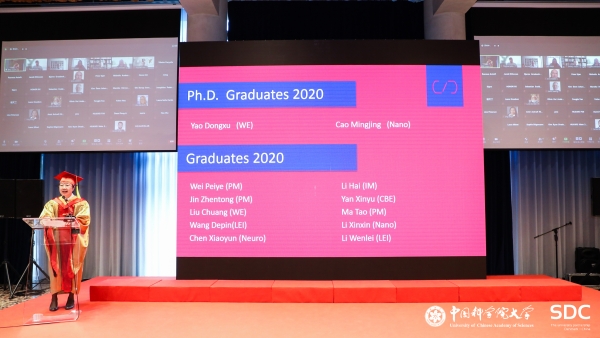 On-site graduate award ceremony
Morten Laugesen, Danish director of Sino-Danish Centre for Education and Research, delivered the concluding speech. He wished the excellent SDC graduates should always keep a fighting spirit and be the mainstay of constructing the world. Waving goodbye to SDC and marching forward to a new journey of life, SDC students are shining pioneers of the times and pioneers of the new world!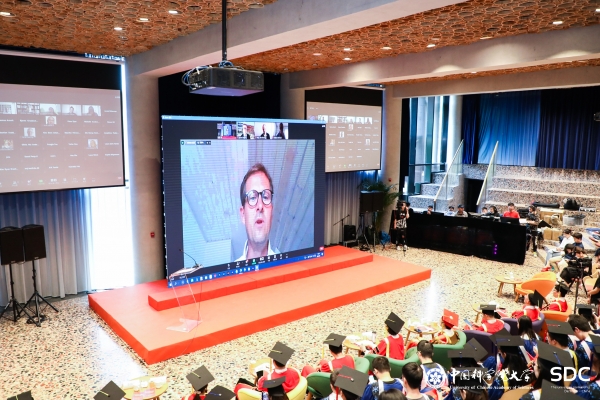 Morten Laugesen, Director of the Danish side of the Sino-Danish Center
SDC Graduation Ceremony and Degree Awarding Ceremony 2021 ended with the chorus of the graduate representatives.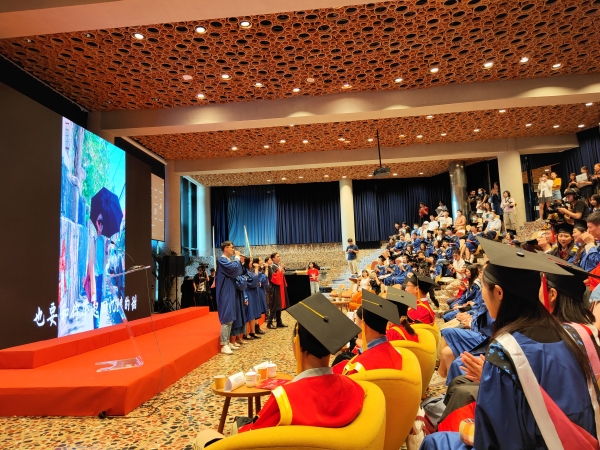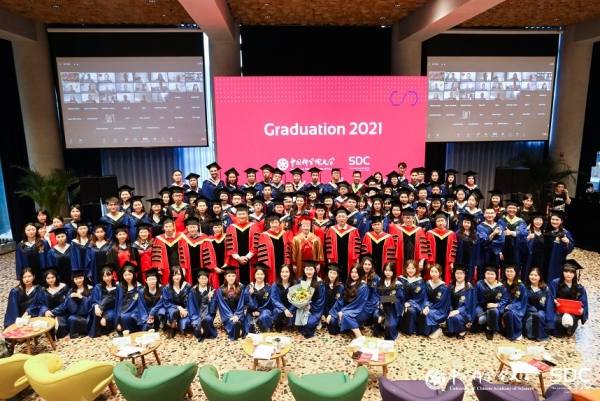 Group photo of students and teachers at the graduation ceremony
Translator: Wang Yiwei, Xie Yixin
Editor: GAO Yuan