The digital economy is increasingly entering all areas of economic life. In the new wave of industrial revolution epitomized by digital technology, China is not only keeping up with the trend, but also at the forefront in several areas. Big data and artificial intelligence are driving China's economic transformation and upgrading, increasing resource allocation efficiency and social productivity, and enabling profound changes in production methods.
However, at the same time, the rapid development of the digital economy and integration of capital and the digital technology is changing the relationships between capital and labor, producers and consumers, big corporations and small- and medium-sized enterprises. The interests of workers, consumers, SMEs and other vulnerable groups need to be protected. Only in this way can the sustainable, steady and healthy growth of the digital economy be ensured.
China has been seeing its digital economy thrive in recent years and it is leading the world in many aspects. The number of Chinese internet users has reached 900 million, more than those of the United States and the European Union combined, which gives the country a solid foundation and great potential for the digital economy's development.
Private capital adopting artificial intelligence is in line with the international trend as a good example of technological progress and a new business model. Private capital can leverage AI to be insightful in the market, nimble in resource consolidation and adept at seizing new opportunities.
However, capital in essence is seeking profit. Capital-backed algorithms and digital platforms often stop at nothing to maximize profits, undermining fairness and justice.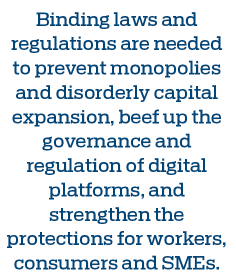 First, disorderly expansion of capital worsens labor-management relations. Capital, especially big tech platforms with deep pockets and advanced technologies, is capable of controlling other factors of production such as labor, which gives it an edge in income distribution. If platform monopolies and the disorderly expansion of capital are left unchecked, industrial relations and even income distribution will further deteriorate.
Second, big data and AI technologies have affected the job market. The emergence of new technologies such as industrial robots will greatly change the nature of work in all industries and occupations, especially in the manufacturing, banking and insurance industries. Governments at all levels should promptly adopt policies to help these workers find new jobs through retraining and improve the social security system.
Third, algorithms and digital platforms have undermined workers' rights and interests. In the era of the digital economy, the gig economy has transformed the mode of employment from "employer-employee" to "platform-individual", which is a departure from the traditional mode of organization and working style. However, relevant regulations and the legal framework still lag behind this trend and need to be improved to better protect workers.
Fourth, it may deepen the digital divide. During the COVID-19 pandemic, schools mostly shifted online. However, people from remote areas were unable to keep pace with the development of the digital economy in a timely manner and were cut off from online-learning and even social life, often due to poor financial conditions and poor internet connections.
Fifth, tech giants bullying smaller rivals disrupts market competition. With their information monopolies, tech giants enjoy diminishing marginal cost, which can easily lead to a natural monopoly, creating an unfair market environment threatening the survival and development of SMEs.
China's Central Economic Work Conference in 2021 made "strengthening anti-trust and preventing disorderly expansion of capital" one of the eight priorities of this year's economic work. The 14th Five-Year Plan (2021-25) and the Vision 2035 Outline also highlighted "anti-trust and anti-unfair competition enforcement and judicial efforts to prevent the disorderly expansion of capital". Binding laws and regulations are needed to prevent monopolies and disorderly capital expansion, beef up the governance and regulation of digital platforms, and strengthen the protections for workers, consumers and SMEs. To better regulate players in the data market, China needs to improve its governance system, modernize its governance capacity, further improve the legal framework by revising its laws on privacy and information protection, data security, anti-trust and other related laws and regulations.
The government should be careful in regulating digital platforms, however, since China still needs to nurture more innovation-minded companies with international competitiveness. Government regulation should not only prevent monopolies and the disorderly expansion of capital, but also continue to protect and encourage innovation. In the face of cutthroat international competition, globally competitive Chinese corporations, which China now lacks, are indispensable for China's digital economy, thus the government could offer more support. As to full-fledged digital platforms, the government should focus on microregulation to prevent monopoly and disorderly competition, while also supporting them going global. Government regulation should be adjusted when and where needed for the optimal "dynamic equilibrium" under different circumstances.
Hong Yongmiao is an academician of the World Academy of Sciences for the advancement of science in developing countries and dean of the School of Economics and Management at University of Chinese Academy of Sciences. Zhang Ming is a PhD in the School of Economics at Xiamen University. The authors contributed this article to China Watch, a think tank powered by China Daily. The views do not necessarily reflect those of China Daily.
Authors: HONG YONGMIAO and ZHANG MING
Source: China Daily
Editor: GAO Yuan